About topical steroids
What are steroids?
Steroids are adrenocortical hormones produced by the adrenal cortex, an organ in the human body. Steroid drugs are artificially synthesized steroids, which inhibit inflammation, immunity, and allergies as endogenous steroids.
There are various types of steroid drugs, such as internal agents (oral drugs), injections, inhalants, and suppositories, other than topical drugs (lotions). Topical drugs (lotions) are most often used for local skin lesions, such as eczema, dermatitis, itchiness, and hives.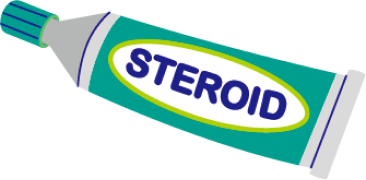 Actions of steroids
Steroids reduce inflammation, itchiness, and redness caused by eczema by the actions shown in the table.
Anti-inflammatory activity
Steroids block the production of substances in cells that cause inflammation to directly reduce inflammation.
Cytostatic activity
Steroids block the increase in the number of cells that cause inflammation.
Vasoconstrictor
activity
Steroids tighten the blood vessels in inflammatory areas and reduce the redness of the affected area.
Immunosuppressive
activity
Steroids block the production of antibodies and weaken the immune system that causes inflammation.
Topical steroids are grouped into five categories
Topical steroids are grouped into five categories depending on their strength. OTC topical steroids are grouped into three categories: "weak," "mild," and "strong." Betamethasone valerate, contained in Rinderon Vs Ointment, Cream, and Lotion, is classed as "strong."
When symptoms appear, it is important to use strong topical steroids in the early stage for a short time and completely inhibit the inflammation.
The percentage of absorption of topical steroids from the skin largely differs depending on the area of the body.
When applied to areas such as the face, where steroids are easily absorbed and side effects often occur, and when used in babies and the elderly, it is recommended to use steroids one rank weaker.
If you do not know the strength of the steroids to be used, consult a pharmacist or registered seller.
About Rinderon Vs
How to buy

Rinderon Vs can be bought from a pharmacist or registered seller at a pharmacy/drugstore.

Find out more

FAQ about topical steroids

Frequently asked questions about Rinderon Vs, such as how to apply and application considerations, are listed.

Find out more

For your better understanding

Rinderon Vs is a designated class 2 OTC drug.

Find out more
Videos on how to use
topical steroids